Flomac® Colour
Flomac® Colour is an efficient method of adding colour to asphalt. It is suitable for use with standard bitumen (red) or synthetic bonding agent. Choose an easy, safe, efficient and ecological way to produce colour asphalt.
The pigment is pre-dispersed within the pigment pellets, giving the pigment more tinting strength. In addition, special additives have been added to optimise mixing with the bonding agent.
You now only need 50% product compared to traditional pigment powders, to achieve the same colour.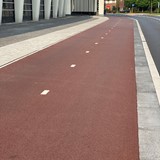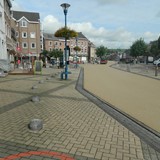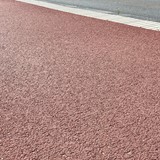 Benefits
Less bonding agent needed in the mix
Faster spread of colour, thus homogeneous colour mixture.
100% dust-free pigment granules
Increased colour intensity and mechanical properties in the mix
100% waterproof
Dosing from a silo or with an automatic dosing system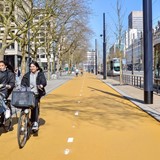 Applicable product
Avoid the problems of working with powder pigments in the asphalt plant or on site. No dust or mess, but a conveniently applicable product that is easier to use. Achieve the same results with less product. You can make asphalt in the following standard colours: red, blue, green, yellow and white. In addition, we can supply any special colour at request.
Want more information or a free quote?
We are happy to help you, please contact us.